I finally launched my own podcast! These are the audio tracks from my videos with some minimal changes, but it may be more convenient for someone to follow me this way. You can try to find my podcast in your podcast player by searching for "avleonov" (well, at least it works in Podcast Addict) or add it with the direct URL https://avleonov.com/podcast/feed.xml.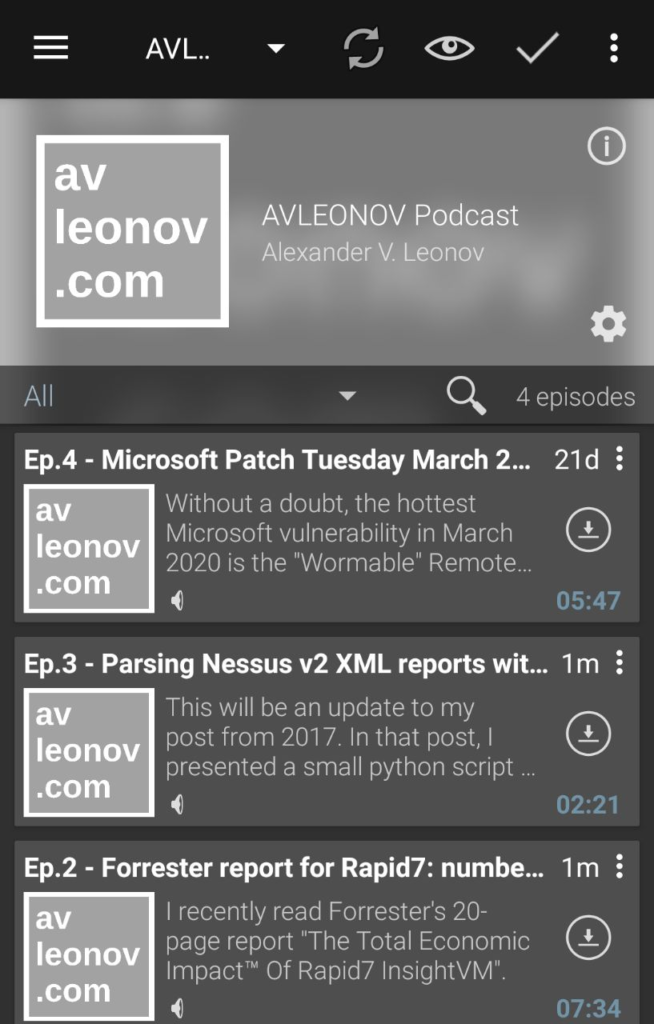 And here is what I recently learned about podcasting.
There are many platforms for recording and posting podcasts. But most of them are quite expensive or have some strange limitations. So, I just decided to host the audio files in a separate directory of my website and created an XML file (https://avleonov.com/podcast/feed.xml) that describes the podcast. It's really not that difficult to do, even manually, if you release just a few episodes a month. I followed the Apple recommendations [1,2]. By the way, it's funny that they have an error in the sample RSS feed and no one has found it (proof).
The world of podcasting is really huge, but it is made for ordinary people. Apple currently has 111 categories for podcasts, for example, there is a separate category for the "True Crime" shows. But at the same time, there is no category for information security and even for IT. The closest I found is "Technology".
How do podcasts get into the podcast players? I naively thought that there should be some huge directories in which you can add URL of the feed, and then it will appear everywhere automatically. Not really. If you want your podcast to be available on all popular platforms, you must submit it separately to Apple, Google, music and podcast services such as Spotify and Deezer, popular applications such as Podcast Addict or Podcast Player. And each platform or software product has its own separate rules and moderation procedures. For most, you simply add an URL and confirm that you are in control using the code you received in the email that is set in the xml file. But for Apple Podcasting, you must add your bank card information in your Apple ID / iTunes Store account. Well, Apple's way. ¯\_(ツ)_/¯ There are also some services that should make this work for you, but they cost money, and I have not tried them.
Hi! My name is Alexander and I am a Vulnerability Management specialist. You can read more about me here. Currently, the best way to follow me is my Telegram channel @avleonovcom. I update it more often than this site. If you haven't used Telegram yet, give it a try. It's great. You can discuss my posts or ask questions at @avleonovchat.
А всех русскоязычных я приглашаю в ещё один телеграмм канал @avleonovrus, первым делом теперь пишу туда.