It's an epic and really sad news. 🙁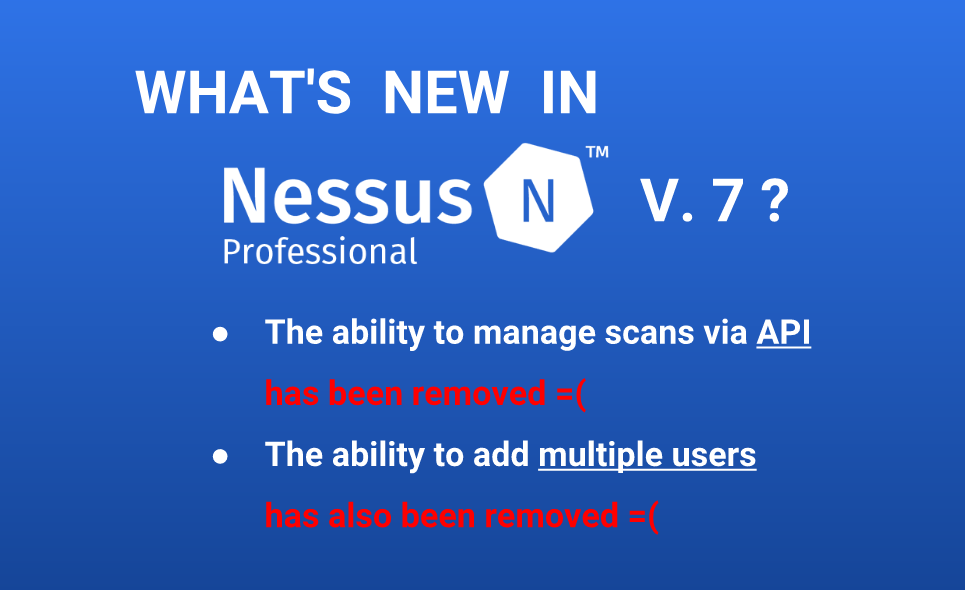 When people asked me about the cost-effective solution for Vulnerability Management I usually answered: "Nessus Professional with some additional automation through Nessus API".
With just a couple of Nessus Professional scanning nodes it was possible to scan all the infrastructure and network perimeter (see "Vulnerability Management for Network Perimeter"). Price for each node was fixed and reasonable. And you could make your any reports from the raw scan data, as you like it.
Nessus Pro was still were best choice even when Tenable:
Cut off master/slave functionality in Nessus and created "Nessus Manager".
Changed API completely during the update from 5 to 6 version.
Gradually increased the price from $1,5k to $2,7k per scanning node per year.
But unfortunately it's not anymore. End of an era.
And what is even more sad is that Tenable does not mention disabling the API and multi-user function in the main Nessus 7 marketing, as it never was, as if it's not very important. Just look at "Announcing Nessus Professional v7" – not a word  about "API" or users. Only in additional link:

Only there, in the text (not a video) there is an information about removed features.
The nice little things like "Easily transferable license" and "Emailed scan reports and custom report name / logo" do not make it any better.
So, what next?
I don't know. We have some time to think until the December 31, 2018 or until the end of the license. Just do not update to the 7th version. Ignore this:

I don't see much sense in updating to the 7th version. Obviously, solution with one shared admin user can't be used in a big organization. And the lack of API kills all the work spent on VM process automation with Nessus.
What options I see:
Switch to the enterprise scanning solution licensed by IP-addresses. And to save existing automation efforts this might be Nessus Manager or, if you are able to use cloud solutions, Tenable.io. I think Tenable expect this step from the current Nessus Professional users. For a big infrastructure total price will be 10 and even more times higher. For example,
Nessus Manager:

Tenable.io VM:

Switch to Tenable SecurityCenter with the minimal amount of IP addresses in order to use Nessus for SecurityCenter, which can save API capabilities. Now Tenable says that only API in Nessus Professional will be deprecated, but they can change their mind any time. So, it's more like a hack.
Keep Nessus Professional and start using the API for WebGui. It is not documented, it can be changed at any time, but technically it is possible and it's relatively easy (See "Burp Suite Free Edition and NTLM authentication in ASP.net applications"). Will this violate the license? It's not clear. But anyone who wants to automate will do it anyway with Selenium or even SikuliX. 🙂
Find a comparable solution without licensing by IP addresses, with powerful API, with good scanning quality and reasonable fixed per year price. At the moment I do not know of any solution comparable to Nessus in functionality. But I believe it is possible to do something similar based on OpenVAS. Interested in this kind of solution? Please let me know.
Make your own Vulnerability Scanner. For example, I decided to start working on Vulchain. Of course, creating a complete analogue of Nessus is an impossible task for one person and even for a small team. But creating a Vulnerability Management solution that will assess some concrete host types in some concrete scan modes seems pretty doable.
I'm very interested to know your opinion, especially if you are an active user of Nessus. What do you think about this situation?
Hi! My name is Alexander and I am a Vulnerability Management specialist. You can read more about me here. Currently, the best way to follow me is my Telegram channel @avleonovcom. I update it more often than this site. If you haven't used Telegram yet, give it a try. It's great. You can discuss my posts or ask questions at @avleonovchat.
А всех русскоязычных я приглашаю в ещё один телеграмм канал @avleonovrus, первым делом теперь пишу туда.